International Obod camp 2022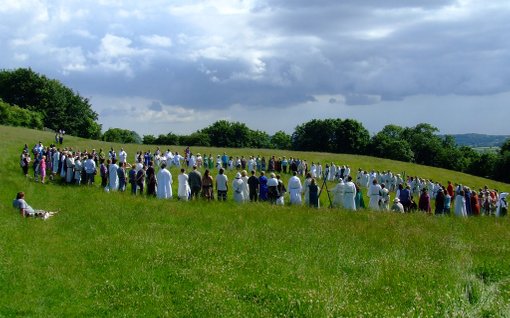 A special theme always determines the energy of a camp and choosing the theme of "Crossing borders" was not done by accident. What happens, when you are crossing borders for and at an international camp?
At first, you have to dare to join. If you have never been to an event with OBOD members yet, it means a new experience, unknown territory, a bit of uncertainty on what to expect. It was touching to see how many OBOD members, that attended the camp for the first time, dared to jump into being four days with completely new people. It also meant crossing borders, if you are an "old" experienced OBODie, to leave the circle of your well-known friends and open up for new ones. All of them, no matter if being at an international camp for the first or tenth time left with this overwhelming feeling like knowing each other already for a live time (or longer 😉) and the feeling of being part of "the tribe".
Crossing borders was also literally done, when you join an international and not a local camp or grove meeting. Every one of the participants travelled from their home-place through other landscapes, counties and a lot of participants crossed country-borders from Netherlands, Belgium, Switzerland, Ireland, Wales to the Eifel in Germany. To connect all of them, across borders of mother language, dialects and habits, an uniting language was chosen. Common language at the camp was English, also for the workshops, which meant also crossing a comfort zone border for workshop givers and attendants. But the reward was a truly united community that found each other from the very first evening on in inspiring talks, laughter and joy. All countries, ages, genders mixed and were connected by the community spirit. This is the magic of the international camps too, unite with the OBOD community in Europe or even worldwide, which brings so many new inspirations, insights and friends, who weave a global net of love and connection over the planet.
Crossing borders was also the topic of the workshops on Saturday, with workshops on realms like minerals, plants, elements, animals, ancestors, transformation, Celtic shamanism, sounds and magic. All topics that have the potential to ask oneself "who am I" – and open up to the possibility to find out where one draws a border between the "my self" and the "not my self". Also to recognise that crossing a border implies that borders can move and be redrawn, and that if you cross a border you won't be the same person you were before you crossed it. None of us left the camp being the same like before, enriched with new ways of looking at things, discovering new aspects on him- or herself and inspired by hearing the teachings, experiences and insights of others in the community.
Crossing borders also means stepping out, showing yourself, be seen, dare to speak, sing, share a poem, dance. So many heart touching, stunning, brilliant and joyful performances at the Eistedfodd, that celebrated all the bardic skills every one of us is carrying. The blessing of Cerridwen as patroness of inspiration and Awen was surely with us at that beautiful evening.
In the end, crossing all these borders led to a deeply connected community over all borders, even foodwise, where our German and Portuguese cooks and OBOD-couple Celia and Michi did pure kitchen magic, that nourished body and soul of all participants.
In 2024 the intention is to create again an international camp, with a new theme but for sure again with the magic of meeting likeminded souls, receiving new inspirations and celebrating earth and life together with our amazing tribe.
If you want to see pictures of our camp. Click here. It's password protected. Signing in details are in our latest newsletter that has been sent to all camp participants. You can always mail us for resending this newsletter.